You may know it as the Pareto Principle. It is an economic principle that has crossed over to general business and then into the various aspects of productivity. And it says:
80% of the output from a given situation or system is determined by 20% of the input.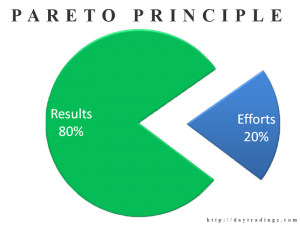 Because it is an economic theory, using hard numbers works when you have them. This means larger companies, manufacturing companies, and firms with 10 or more employees can use the percentage when measuring various aspects of the business.
For solo business owners, freelancers, coaches, consultants, internet marketers, and others, we can use the principle to figure out what we should be focusing our attention and energy on to grow our business.
When you're able to identify
the product or service in your business that is bringing in the most revenue…
the marketing efforts that are bringing in the most qualified leads…
the type of paid ad campaign that has the most click throughs…
you can begin to prioritize where your time, money, and energy should go.
Essentially, you want to identify what is working better than the rest and then focus your attention and money on doing that…more.
For example, you are using social media to market your business.
You have an active profile on Facebook, LinkedIn, Twitter, Instagram, Pinterest, Snapchat, YouTube and Google+.
You use a tool like Buffer or AskEdgar or Hootsuite to post an update to each of these profiles every day.
You, personally, show up on 3 of those platforms every day.
After 30 days, you should see which platforms are sending traffic to your website, are having engagement on your posts. There will likely be 2 or 3 platforms that are "working" for you. Increase your activity on those 2 or 3 platforms and leave the other platforms as they are.
Another example is product based.
You have 14 eBooks, 12 video courses, and a membership site.
You see that 4 video courses and 6 ebooks are getting multiple views and downloads.
Over time, you can see that this is consistent for these 4 video courses and 6 ebooks.
What you do with this information depends on the topics and your membership base. But, now you have information you can use as you plan your content creation or marketing efforts. You know what your customer base is interested in and that is money making knowledge.
This is Day 8 in a 10 Day series about daily success habits. You can read Day 1, Day 2, Day 3, Day 4, Day 5, Day 6, Day 7.
Sign up for an email update when new posts are published … just scroll to the top right of this page and you'll see the subscribe button.