You have a website.
You have a blog.
You know that content is King.
You know that quality written content is important because it:
Sets you up as an authority in your market

Gives you credibility in the eyes of your readers, audience, market

Offers quality information for your readers
Your content marketing goals could include
offering quality blog posts for your readers

quality articles for sharing on LinkedIn and Medium

quality guest blog posts for those who give you the opportunity to share with their audience, or

articles written with SEO in mind so your page ranks higher in Google.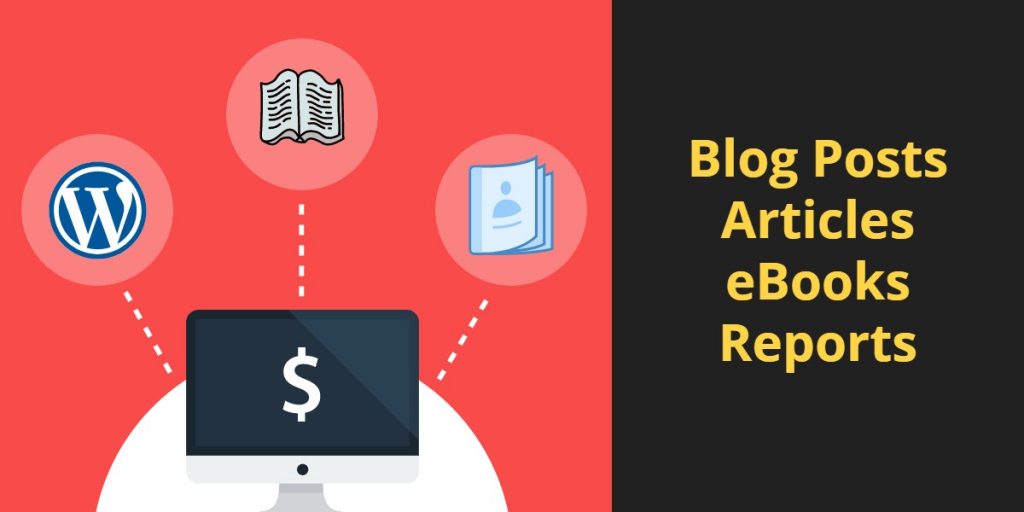 I've written eBooks for 
internet marketers

crypto-currency traders

nutritional supplement marketers

personal development experts

and many others. 
They are used as lead magnets, as part of a course, and sold from their website.
I've written blog posts and articles for 
home care specialists

internet marketers

real estate investors

personal development experts

and others. 
They are published online to showcase their expertise and knowledge.
I've written web pages for 
SEO agencies

internet marketing/digital marketing agencies,

credit repair agencies

ophthalmologists

and others. 
The intent is to have web pages optimized for specific long tail keywords and to inform the reader while answering the readers' questions and showing them where to go next on the website.
When you have me write content for you, you can use it for promotional purposes to:
Connect with your audience

Boost search engine ranking and exposure

Attract qualified leads to your website
Position Yourself As An Expert
Your name associated with an article or blog post or eBook that gives the reader the solution to their problem.  
You gave them what they needed to know to improve their life or business. 
This makes you an expert in their eyes. It also attracts customers to your site because people want to learn from and work with experts.
Link Building
Yes, it's still a 'thing' in SEO.
When your blog post URL is shared on other websites, Google thinks it's a good thing that other sites like your content enough to publish it. 
This includes guest blog posts where you have an Author Bio and a link to your site. It also includes someone else referencing your article or blog post on their site.
Payment
Payment is in advance except for eBooks. 1/2 payment upon engagement.
Final payment upon completion when eBook is turned over to you. 
Up to 2 Revisions.
PayPal and Stripe are available options for payment.
Copyright
Upon receipt of final payment and transfer of work to you, copyright transfers to you as a work for hire.
Ready to get started? Have questions? Email Me.
We're going to have to talk about what you need and what you want to do with this content for me to price it properly.
I will tell you now – I no longer offer pricing by the word. I price by the project.
Why? 
Because you want quality content. Content that serves you and your purpose. This will require that I spend time researching the topic, your audience, you, and your business. 
So, let's have a conversation. Email Me.