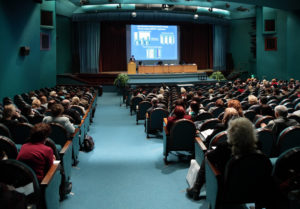 As a business owner I know that making effective sales presentations is key to growing my business. As a member of Toastmasters, every speech I give provides me with excellent feedback. As an attendee to NSA Kentucky Speaker School Spring Training Camp with Patricia Fripp, CSP, CPAE I was bombarded with outstanding information and excellent tools to add to my arsenal of speaking skills.
This past Friday I was treated to her session:"Good to Great: Taking Your Presentation to the Next Level" and within minutes I knew I was in the right place.
How Well do You Speak Now?
She began with research (you know this endeared her to me forever!) by surveying the 30+ attendees. Using a white paper presentation pad, easel and black marker, she listed varying levels of expertise, beginning with Novice and ending with Master. Then asked each attendee to self-describe their level. As she called out each level we were to raise our hands and she would note the number by each level. Then she listed the various reasons why people would attend her workshops, starting with Sales Presentations and ending with Coaching Professional Speakers. Using this 'on the spot' surveying technique, she was able to tailor her message to the audience – one important takeaway that many of us noted.
Practice, Practice, Practice
Then she began to wow! me and a few other 'new to being Frippnotized' attendees.
One question she asked of us really stands out to me:  "Are you practicing to improve? Or are you reinforcing bad habits?"
And I will be the first to say – I don't know!
She proceeded to show and share how to improve our skills, then how to practice that improvement; how to identify the bad habits, then how to remove them; how emotionally connect with the audience, then how to get them to think what you want them to think. I would share more, but, honestly, you can get this information on her site and I encourage you to check it out.
Structure, Content, Delivery
There is no doubt in my mind that I was learning from the best. Heck, my notepad began to fill immediately, and page after page is of tips and techniques that I can put to use right now.
And, it didn't take long for me to redefine my level of expertise from Beginner down to Novice. It wasn't just Patricia's presentation, it was also the other attendees that influenced me.
Check out some of the professionals who were attending. Professional speakers successful in their niche, wanting to improve their skills to better serve their clients:
Stan Walters, current President of NSA Kentucky and known around the world as The Lie Guy

John Baumann, professor and attorney known as The Inspiring Esquire

Dr. Stan Frager, Ph.D., private practice psychologist, local radio show host and public speaker

Terri Thompson, business & social etiquette consultant

John Henderson, I-Net Marketing, a web development company

Wayne Perkey, professional speaker and interviewer

Richard Sowa, finance expert, continuing education instructor and speaker in the finance arena

Joe Vary, life coach and mentor to many business women

and many, many more – but this short list should show you the range of attendees and niches they serve.
Put Into Practice
Where do I fit in this? My question, too! My focus for my business is to grow it by providing 'high level' presentations to business groups, as well as quality sales presentations to potential clients and strategic partners. After this workshop, I feel prepared and confident that I can do both of these. I also know how to polish a workshop I'm giving on Facebook for Beginners. Now I know my audience will get value! And, with a few suggestions from Patricia and other attendees, I have a list of business groups to contact and offer myself as a speaker.
And Now For You
Where do you fit in this? That is my question to you. Do you give sales presentations? Are you giving 'speeches' or presentations to business groups? Have you done any speaker training? Have you been Frippnotized and loaded with Frippicisms?