Social Media Authority Is Not Being the Best Promoter!
Many people think that once they have a social media profile in place they are given free rein to post promotional messages like these:
Buy Me!
Work With Me!
Check This New XXX Out!
Well, they're wrong.
Bombarding your followers, friends and connections with promotional messages is…
quite honestly…
rude.
It seems that people think the word "media" gives them a license to advertise, and considering that most platforms are available to use at no charge – well, I guess they think that's free advertising for them.
Social media is …
a platform on the internet…
accessed through desktop computers, tablets and smart phones…
to be social.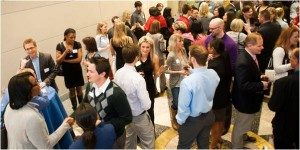 Think about the last event you attended where there were people you didn't know very well. It could be a business networking event, a wedding reception, a baseball game sponsored by a local charity.
You walk into the event, a bit cautious because you don't know many people there, and you look around to see how people are interacting. Then someone approaches you, puts out their hand and says
"So Glad You're Here! Have You Seen The Latest Weight Loss Product?
It's Organic, Tastes Great, and by the way –
If You're Interested In Making More Money You Can Become A Distributor Yourself!"
Then they walk away.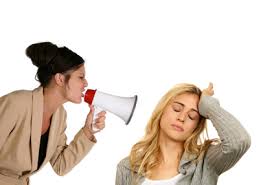 You've just experienced the Facebook, LinkedIn, Twitter, Google+, Instagram promotional status update. And it felt wrong, didn't it? Like you were being yelled at.

Yes. It is that rude.
The ONLY Social Media Authority you will gain by this is one where the crickets congregate. And if, for some reason, you're currently getting a lot of customers and buyers using this method, rest assured it will stop soon. Rare is the person who was able to keep their friends and connections by blasting them with promotional updates on a regular basis. Actually, I've not met anyone that has been able to do this.
How To Get Social Media Authority
I'm glad you asked!
I wrote an ebook that outlines just how to do this.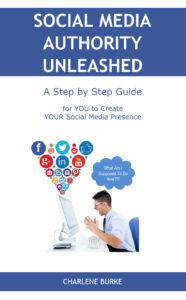 A Review:
"If you were ever wondering how to start getting found on social media Charlene's book "Social Media Authority" is a fabulous place to start. It is an easy to follow primer that will get you started off on the right foot in all the most popular social media sites available today.  You want this book not only because it gives you tips and trick to sign up and create great profiles on each of the services individually, but it also gives you starting points that will enable you to establish a marketing plan which will help you be much more successful online. 
If you want hints for creating, sharing, and distributing your content easily through scheduling tools like HootSuite this is also the book for you.  Consistent engagement is important and there are smart ways to do it and ways that will drain the life out of you.  So many times, I see people that want to make an immediate splash, go viral, be famous.  You need the brass tacks to upholster your efforts in the right fabric. Then you can start making social media work for you.  I highly recommend this book if you want to point your compass in the right direction and take some of the mystery out of getting started on social media."
~ Scott Attenborough, Content Capital Services
I'm going to do a full product launch with quite a bit of internet marketing, so for the moment it is available to purchase for $7. 
Interested? You can buy a pdf copy it here >>>>Social Media Authority<<<<<
Prefer Kindle? Get your copy here: >>>Social Media Authority Unleashed<<<