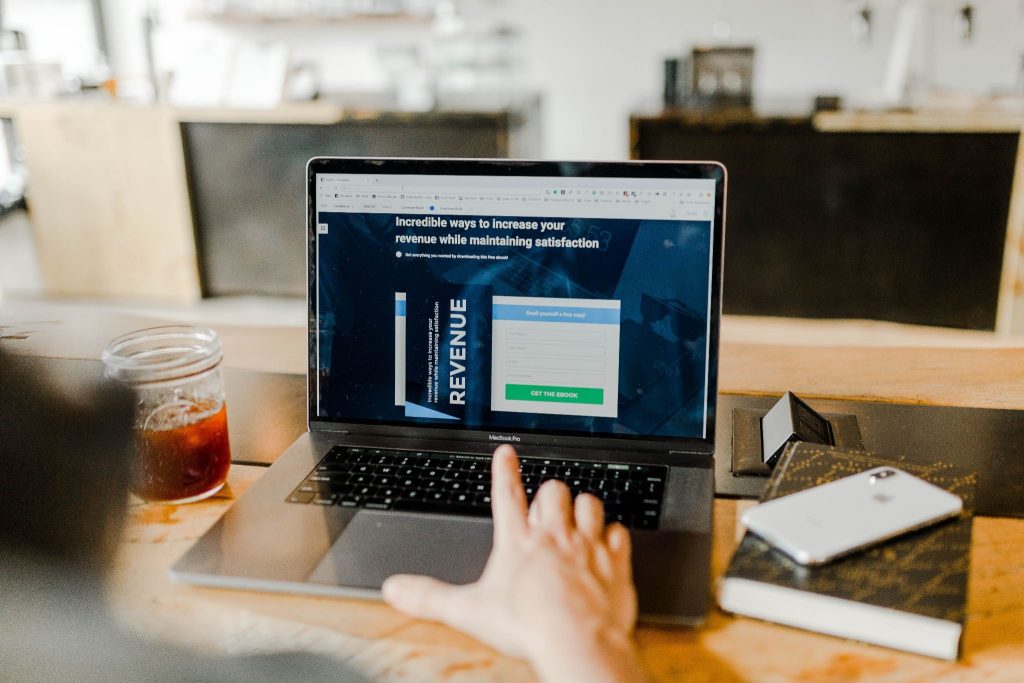 Photo Credit: Austin Distel via Unsplash
In 2023, a website that works for you is key to running a successful business. But, maintaining a great website is much more than making it look good. It includes consistently monitoring performance, implementing the best cybersecurity measures to protect sensitive data, sustaining high SEO rankings, and much more. In this article we'll explore the best strategies for creating a great business website and the numerous advantages of tracking website performance.
Key Website Metrics to Track
Before you can put your data into action, you have to know which metrics are worth tracking. Here are a few definitions and why they are important:
Unique Visitors
This represents the number of new visitors that visit your site each day. This is a great metric to track if you are currently running paid marketing campaigns or implementing SEO projects to drive higher traffic to the website.
Bounce Rate
This metric tracks the number of visitors who bounce (leave) the website within seconds of accessing it and don't take any action. A high bounce rate can be problematic as it hampers the performance of the business. The causes can vary from poor design to slow load times or server issues.
Page Load Speed
Customers expect websites to load within seconds of accessing them. If your website fails to load in the first 2 seconds, it can drive customers away and increase bounce rates.
Website Uptime
This metric is represented as a percentage, with the ideal being 99.99%, according to UpTrends. Uptime refers to the amount of time your website is functional and can be accessed by customers. While scheduled maintenance is understandable, reduced uptime owing to errors and server issues should be fixed promptly.
Time on Site
After getting users on your site, it's important to keep them, as the longer they stay, the higher the chances of making sales or securing a registration, according to Themeisle. This metric provides valuable insights into the duration visitors spend on your site. A high number is ideal as it means customers are interested in your product and could turn into subscribers or buyers shortly.
The Benefits of Tracking Metrics
Now let's look at the various benefits tracking these metrics will provide to your business:
Implementing Sound Cyber Security Measures
If you notice a sudden reduction of performance in key metrics, it could sign a possible cyber security breach. For instance, sometimes bad actors hack into servers to use them as storage spaces to save and share pirated data or run illicit activities. This creates an additional burden on your system and can reduce page load speeds and impact uptime. A great way to prevent such breaches is to safely share files over business emails by using PDF encryption. Encryptions make files inaccessible to individuals outside of your business.
Maintaining High SEO Scores
Maintaining a high SEO score by consistently publishing optimized content on your website. Based on Google's SERP algorithm, the following are great ways to improve your optimization score: including a hierarchy of heading tags (H1, H2, H3, etc.), adding meta descriptions and image alt tags on all pages, and including multimedia on your blogs such as images, videos, and social media integrations. Page speed is also an important criterion; hence implementing good cyber security measures will increase your brand's reach to a significantly large audience through better SERP rankings.
Automating Tasks with a CoE Manager
A Center of Excellence Manager can provide guidance on how to effectively implement automation + AI capabilities to maximize your productivity. With their expertise, you can streamline your business operations, reduce errors and costs, and ultimately increase your profits. Investing in a CoE manager can be the key to unlocking the full potential of your business, so don't hesitate to seek their assistance.
Improving Marketing Campaigns
On average, businesses spend 6-14% of their revenue on marketing. This is because running digital marketing campaigns drive more traffic to your website compared to businesses that don't. However, if your website is hacked, it can have a drastic impact on the business's ability to survive. Hence, tracking website performance and keeping bad actors at bay is a business priority.
Key Website Metrics to Track
Running a great website requires numerous parts to function in synergies, such as maintaining a high SEO score, fast page load speeds, and 99% website uptime. This is only possible through consistent tracking of website metrics. When it comes to protecting your website from your attacks, remember that the first line of defense is using encryption to share information through a PDF.
Are you looking for content writing for your website, social media campaigns, or professional emails? Then trust Search by Burke for quality content your readers will love!