You've decided that it's time you get started with email marketing.
That's great! Because –
If you don't see email as a money-making strategy, you're giving money away to those that do.
It's easy to get overwhelmed and to wonder where to begin.
You're going to need a few things in place before you can send your first email, though.
Once you have these in place, you'll be able to grow a list of subscribers and market to them on a regular basis.
Email Service Provider
The first thing you need is an email service provider. You're going to want the basic functionalities that all email service providers include:
Create email templates and/or use pre-made templates
Maintain a subscriber list, uploaded by the user for distributing messages
Send email, allowing users to distribute their messages to subscribers
See statistics and reports of email campaigns and individual emails to measure success
And, most important, they have a tool that lets you design the form for people to use to opt-in to your list. The code for this form is what is copy/pasted to your opt-in page.
I

use GetResponse.
It's been around a long time, has a good reputation, has worked for me since 2014.
If you're new to email marketing, it's highly likely that you don't have a list. Or, if you do, it has less than 250 subscribers on it.
Look ahead a few months from now. Does your email marketing plan include growing your list to over 2,500?
That number seems to be the common point for big differences in costs with email service providers. So, it's something to consider, but it's not vital. Because honestly, you need to have an email service provider to get started with and as your list and needs grow, you can always change providers.
Landing Page, Squeeze Page, Opt-In Page
This page is where the opt-in/subscription form goes. It could be a spot on your blog (if it's a WordPress blog it would be a widget in the sidebar – see the graphics I have over there =>).
It could be a page all on its own. You have to put the form code from your email service provider someplace for people to find and to fill out.
Some email service providers offer a landing page/opt-in page as part of their package. GetResponse now offers them at their lowest level!
Have a WordPress website? Use a premium plugin or a free plugin.
Have a Google account? Use a Google Doc. Though this does take a bit of design work to make it look like a landing page.

I have WordPress websites and I use Elementor Pro.
It takes about 20 minutes to get up to speed on how to design a page. Once you get it – you can duplicate your sales pages (and every page in your funnel for that matter) – and then just replace the copy and images.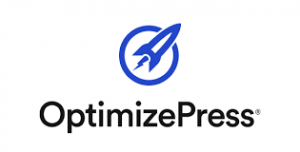 Another option is to go all-in with a theme like Optimize Press. A great WordPress theme + page designer that offers templates and more.
Lead Magnet
You're going to want to offer something that will incentivize someone to give you their email address. You can offer digital, downloadable content like a free PDF checklist, report, eBook, whitepaper, or even a video.
It must be something that is easy to download, offers a solution to a problem in your niche, and is easy for the subscriber to implement or use.
Think of something you downloaded, for free, that was really helpful to you in your business. Now, create or find something similar for you to offer your own list.
How to create a lead magnet?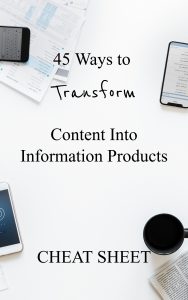 Here's a cheat sheet that shows you 45 different ways you can transform your existing content – yes, existing content – into something else. That "something else" can easily be your lead magnet.
A Plan
And finally, you will need a basic plan that outlines the kind of emails you will be sending your list, what products and services you will be promoting, and how you will grow your list by driving traffic to your opt-in page.
Sounds like too much to organize?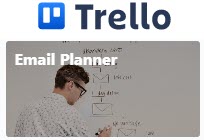 Here's a Trello Board (Trello is free to use – create an account and then copy my board)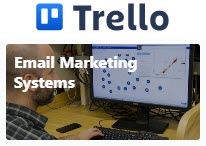 Here's another that will help you with your Email Marketing
Once you have these things in place, all that's left for you to do is to get started.
Stop thinking. Start doing.
Connect with me and let me know how things are going!