There is no doubt about it. Studies have proven it over and over again. Email marketing is the most effective and most powerful form of online marketing. Nothing else comes close. Not search marketing. Not search engine optimization. Not social media marketing. Ignore the hype and see the truth:
through email marketing, you are directly in front of the eyes of your target market.
A benefit of email marketing – for you – is that it doesn't matter where you are when you write the emails.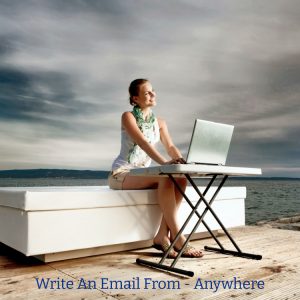 Soaking up the sun on the beach in the Caribbean.
Enjoying the crisp, fresh air on the deck of a cabin on a mountain top.
Warming up by a roaring fire at a ski resort in Switzerland.
Sipping on a latte or cappuccino in a coffee shop down the street from your house.
You write the email, load it on to your email service, hit Send and within minutes it's showing up in the inboxes of every member of your subscriber list.
And, the best part? It doesn't matter what the subscriber is doing. It doesn't matter when they read their emails. Your email will be in their inbox, waiting for them to read it.
Think about it. You have a list of people who gave their email address to you because they want to hear from you. You now have their permission to send them information that could result in a purchase.
Wow! Where else do you have that kind of audience, literally at your fingertips?
Relationship Building Through Email
The relationship began when that person gave you their email address.
It is up to you to continue that relationship, to build it and expand on it and develop it. Essentially, the more often you send an email to your list, the more they get to know about you and your business.
You can also begin to get to know about your subscribers, too. While you're updating them on the happenings in your business, about products or services that you recommend, you can ask them to Reply to your emails to answer questions you have about their needs.
When you know what your subscribers want, you can better serve them with more value in each email you send. That's what they're looking for – value.
And when they get value is when you see more clicks on the links in your emails. Clicks to your blog posts, your article, your sales page, your bridge video to a product you're an affiliate for, your online store.
Can you see how this offers you a way to keep a steady flow of traffic to your blog? To your online store?
Do clicks convert into sales? Assuming that you're sending them to a good offer with a good reason for them to buy…Yes.
Over time, as you continue to develop the relationship with your subscribers you will see more sales. With each email you send, that subscriber who has clicked once will click again. That subscriber who hasn't clicked a link, yet, will eventually click.
What About Social Media?
You may have heard great things about social media. Facebook, LinkedIn, Twitter, Instagram, Pinterest, YouTube, and the many other platforms are often touted as "the place to develop relationships with your customers."
First, your followers and fans must be customers. Are they? It's highly likely they aren't.
Second, and more important, every social media platform goes through fundamental changes that affect how you can communicate with your audience. As the years have gone by, Facebook has been changing the algorithm so that fewer people see your message if it contains links to a website off of Facebook. This means that you will see less organic traffic to your website or offers. The same is becoming true of the other social media platforms.
With email, you have a greater chance of your entire list seeing your message.
You're not at the mercy of an ever-changing algorithm on social media.
You are in control of your access to your audience.
If you change social media platforms your entire audience isn't going to follow you to a new platform. If you change email service providers, you can download your list and upload it to a new provider and keep every one of your subscribers.
So, how's your email marketing going?
Are you regularly building your list?
Are you regularly sending an email to your subscribers?
What about your buyers – do they hear from you?
If you said No to any of these questions, what do you need so you can say Yes? Feel free to comment below – I am working on a solution that just might be fit for you.